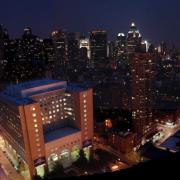 Mount Sinai Roosevelt hospital is located at 1000 Tenth Avenue in New York City. The hospital has 505 beds located in a 13 story building built in 1990. The hospital itself was founded in 1871 and is a tertiary service which is community-oriented. It places an emphasis on primary care through partnerships with other medical practices. The emergency room of Roosevelt serves as a medical emergency center for New York's Midtown and West Side of Manhattan. The hospital is equipped with state-of-art medical equipment, provides surgical services and offers private deluxe apartments to patients.
Mount Sinai St. Luke's hospital is located at 1111 Amsterdam Avenue in New York City. The hospital is the principal healthcare provider for New York's West Harlem and Morningside Heights. St Luke's is most famous for being home of the Al-Sabah Arrhythmia Institute, which is one of the world's finest medical centers, specializing in heart conditions. Besides the trauma center and the Al-Sabah Arrhythmia Institute, the hospital also provides services in a number of different specializations, providing primary and community health care, as well as specialty care.
The hospitals' architecture and technology are featured in the following collection of photos.